Details
Here are the details you need to know before you request an appointment with Graduate Student Legal Aid.  
Eligibility
Full-time graduate students who are currently registered at the University of Maryland College Park are eligible for our free services. We are required to confirm your student status before you use our services so please have your student ID available whenever you call or come in to see us.
We cannot provide services to UMD alumni, staff (including post-docs), faculty, or other members of the campus community. Graduate students at Shady Grove, UMUC, or other campuses who do not pay graduate student activity fees to the University of Maryland College park are not eligible.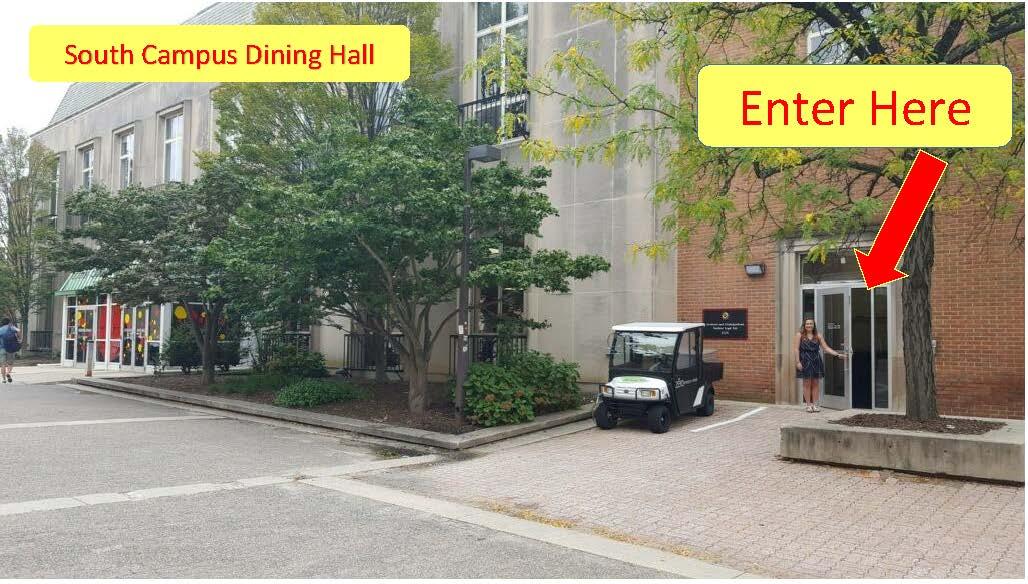 Location & Parking
Graduate Student Legal Aid is located on the third floor of the South Campus Dining Hall, Room #3125, not in STAMP Student Union.  Here is a link to the UMD Interactive Map. For walking directions to our office use the "Route" option on ​​UMD's TerpNav Pedestrian Map.
As shown in the photo to the left, enter the building on the side of the building that faces the neighboring building, LeFrak Hall. Use the single glass door to the far right of the double glass doors and follow the signs to Legal Aid.  
There is paid visitor parking available on Preinkert Drive, in the parking lot behind the South Campus Dining Hall (near the loading docks), and in Mowatt Lane Garage. For information see the visitor parking map or the Transportation Services website.
Staff
William Zachariah Mundy, Esq., Director & Attorney 
Debbie Mikutsky, Coordinator of Services & Programs
Tara Johnston, Graduate Student Advocate, Doctoral Candidate
Martin "Cody" Rakoff, Graduate Student Advocate, Master's Student
Contact us
mailing address: Graduate Student Legal Aid, 3125 South Campus Dining Hall, College Park, MD  20742
phone: 301-405-5807
email: glao@umd.edu

Policies

Conflicts of Interest
Our office cannot provide assistance where there is a conflict or potential conflict of interest between two or more graduate students.  If your case involves a complaint against another graduate student, please contact us to determine whether a conflict of interest exists (as the term is defined by the rules of professional conduct that apply to attorneys and other legal staff).  When possible, we will provide referrals to other on-campus, community, or external resources.
In certain cases, our attorney can also act as a mediator between individuals who are involved in a dispute. For example, if you and your roommate who is also a UMD graduate student want to resolve a dispute, we may be able to facilitate s discussion if all parties provide written consent. Please contact us for more information. 
Finally, Grad Legal Aid does not assist or represent students in cases against the University. 
Booking & Keeping Appointments
We respectfully ask that you keep appointments that you book with our office.  
Cancellations should be made with as much advance notice as possible so that we can accommodate another student during your time slot.
If you are more than 15 minutes late, we may ask you to reschedule your appointment, so that we have adequate time to provide a consultation.  
If you do not appear for your appointment on more than two occasions, we reserve the right to no longer allow you to make appointments with us.
Please make only one appointment at a time. 
In the event of inclement weather, our office follows the University of Maryland schedule (as addressed by UMD Alerts). 

Disclosure
All students who consult with Grad Legal Aid staff are required to sign a Disclosure Form acknowledging the terms of GLAO services.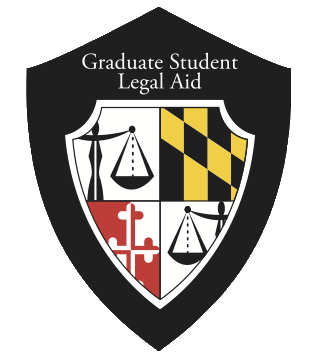 Office Hours
Mondays: 11am-5pm
Tuesdays: 9am-11:30am & 2pm-3pm
Wednesdays: 9am-5pm
Thursdays: 9am-3pm
Fridays: Office Closed
Location
South Campus Dining Hall, 3rd Floor, Room #3125
Telephone
(301) 405-5807
Let's Keep In Touch
Click here to join our list-serv