Welcome to Graduate Student Legal Aid!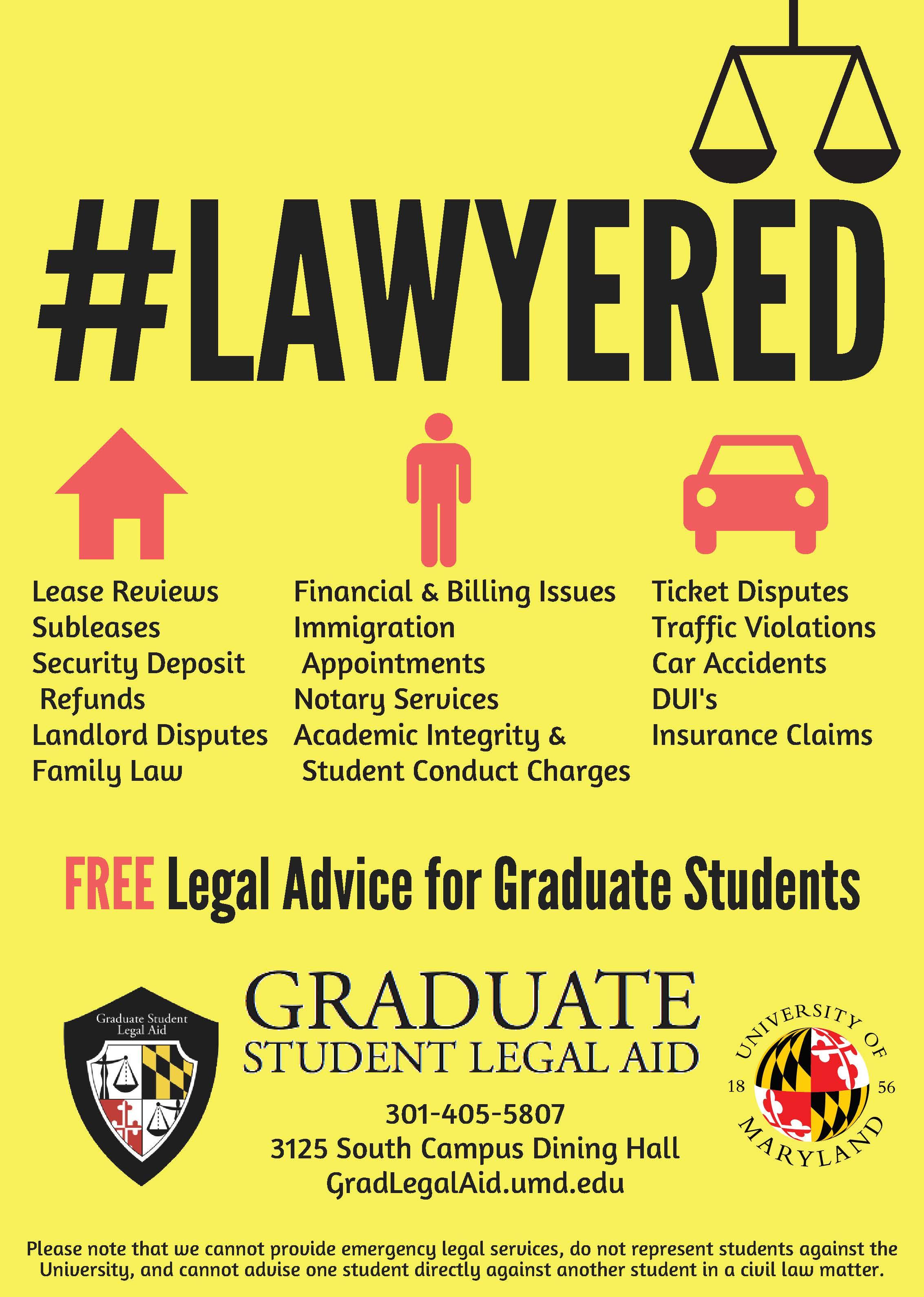 We are here to help you!
You are one of the nearly 11,000 students enrolled in the University of Maryland's 230 graduate programs with a goal in mind.  Whether you are conducting groundbreaking research, advancing your career, or satisfying your intellectual curiosity, we are here to help you focus on your goals and not be sidetracked when life gets in the way.

Graduate Student Legal Aid is here to prevent and resolve your legal problems and to reduce the associated stress.  Our mission is to advise you of your legal rights in a culturally competent, compassionate, confidential, and supportive setting to make it easier for you to do what you are here to do, focus on your academic pursuits. 
Our supportive services are offered at no additional charge to graduate students who are currently enrolled. Graduate Student Government annually allocates a portion of the graduate student fee to fund our office and help graduate students address their legal concerns.
Grad Legal Aid offers consultation services via phone, email, or Zoom, and notary services must take place in our office.  Our office hours are listed at the bottom of the page, and we are committed to promptly responding to voicemails and emails during our office hours.  Just let us know how we can help you!
Services
Legal Aid: Our attorney, William "Zac" Mundy, provides confidential consultations on a wide variety of legal issues. He is licensed to practice in the State of Maryland and the District of Columbia. Click here for more details.
Immigration Legal Aid: We offer confidential consultations for immigration-related issues one day each month during the fall and spring semesters. Our office contracts with a local and well-respected attorney who specializes in immigration law. Click here for more details.  
University Charges: Students facing charges from the university are encouraged to seek assistance from our Advocates, Jocelyn and Simone.  They help their fellow grad students navigate the process of being charged by the Office of Student Conduct. Click here for more details.

Orientation Slides
The GRadulting Workshop Series: These workshops address a variety of topics relevant to UMD graduate students. Experts from both on- and off-campus present information and answer questions. Click here for more details.  
Notary Services: Debbie Mikutsky, Coordinator of Services and Programs, is a notary public, appointed by the Secretary of State to be an impartial witness to the signing of important documents.  Click here for more details.
Briefing: This is our weekly e-newsletter that contains information about our services, workshops, legal updates, and a bit of campus news.  Click here to subscribe.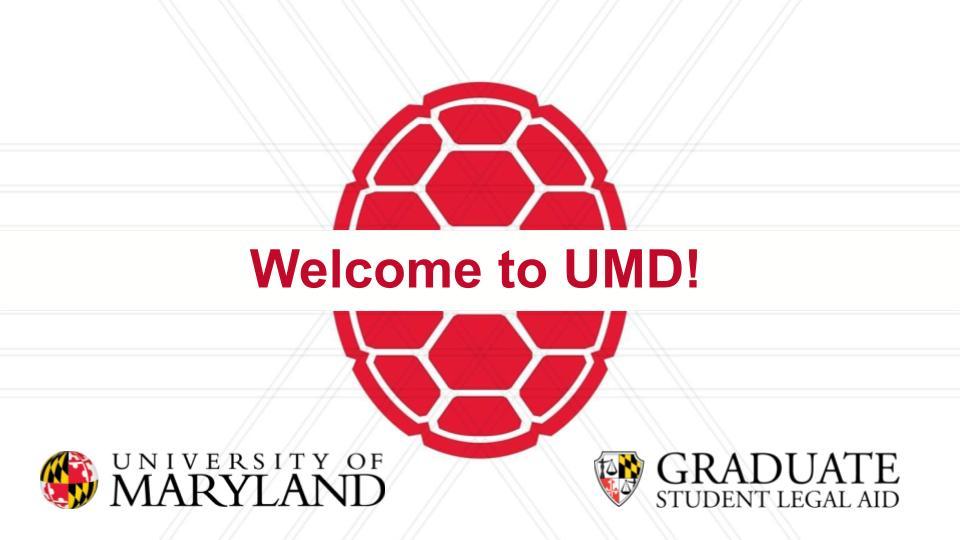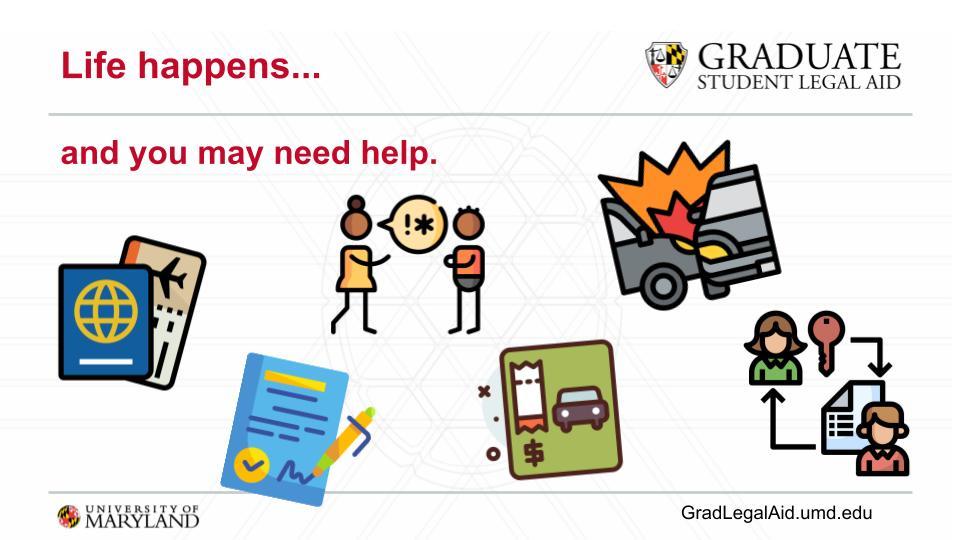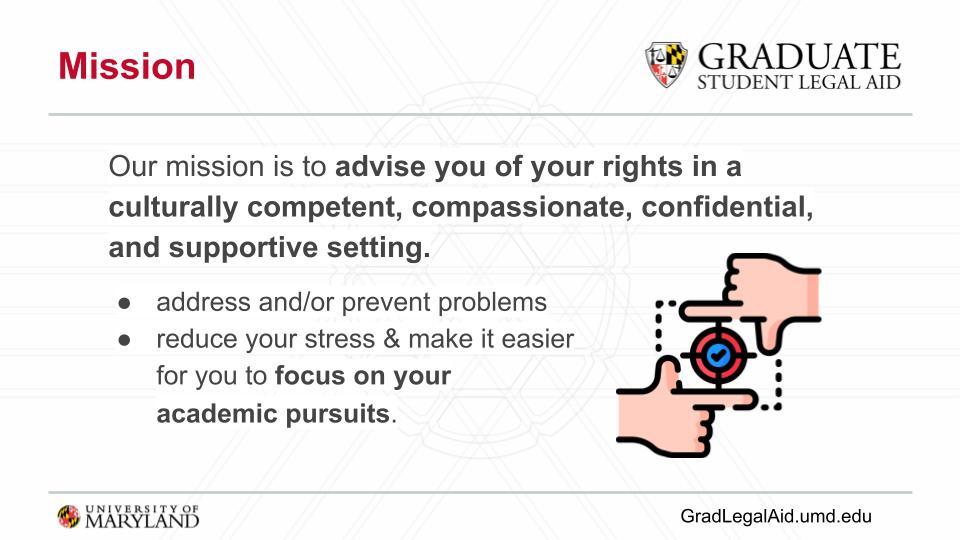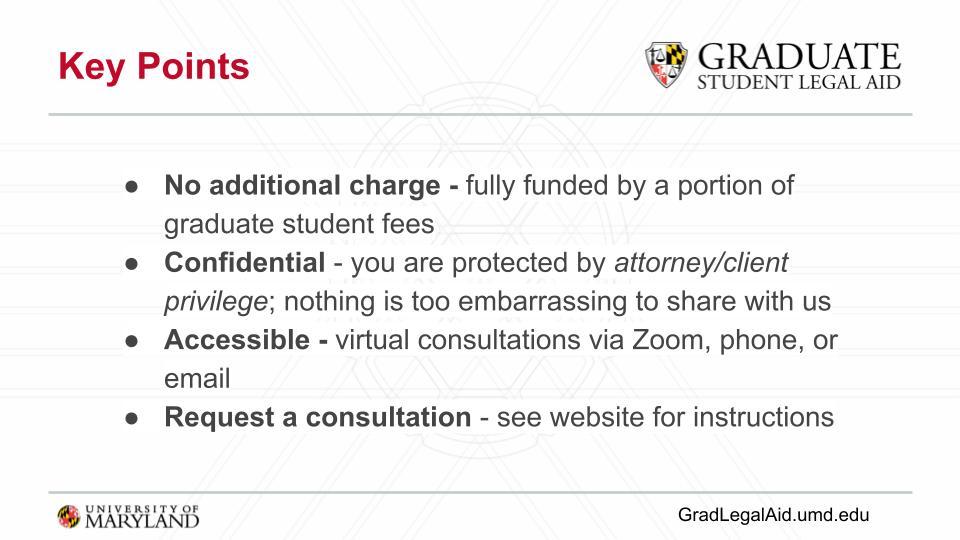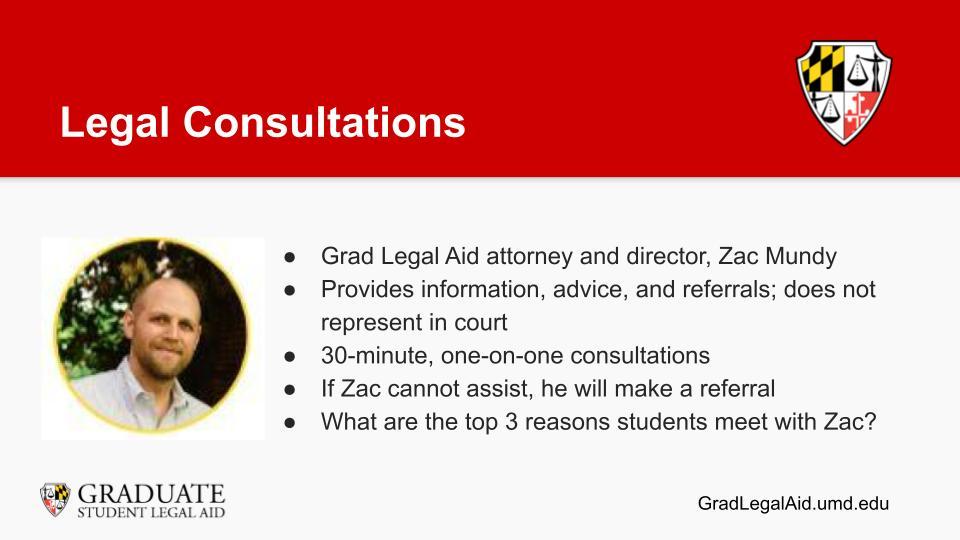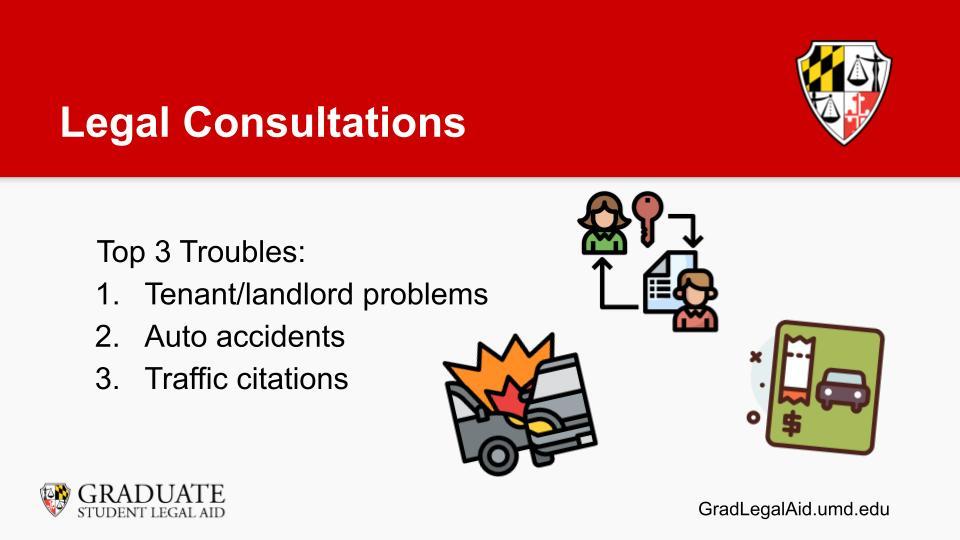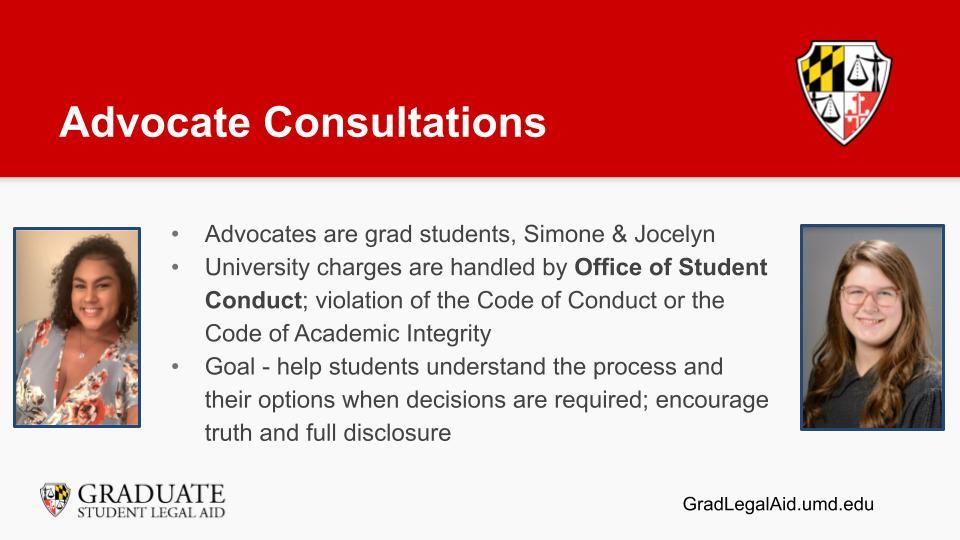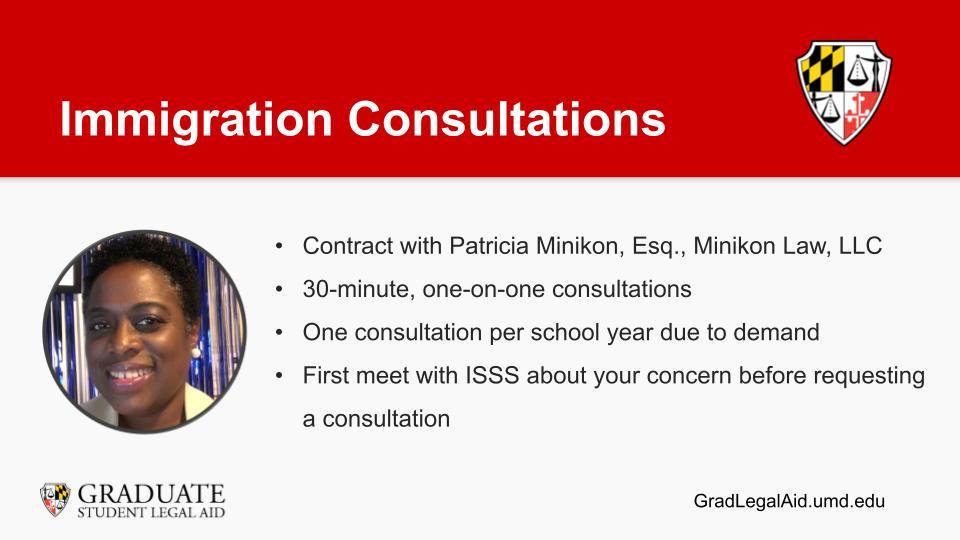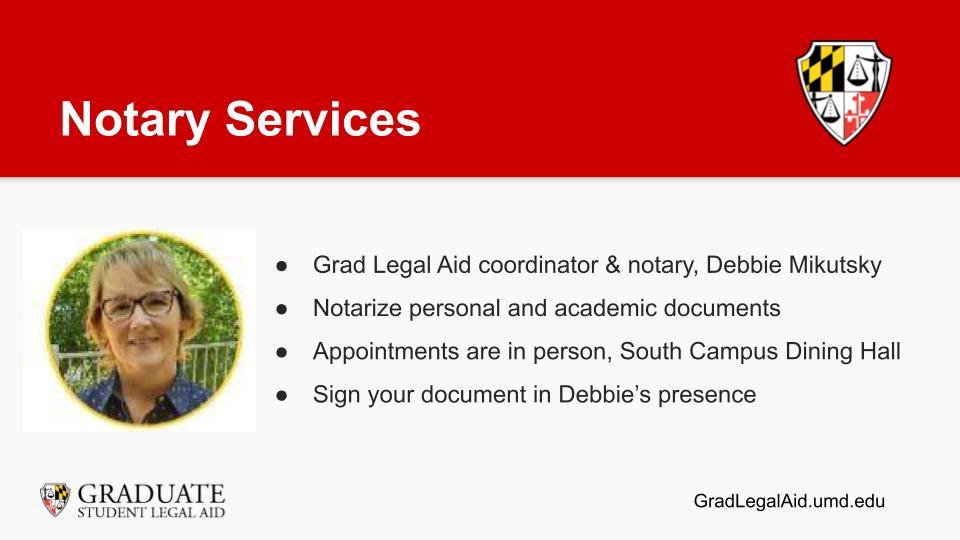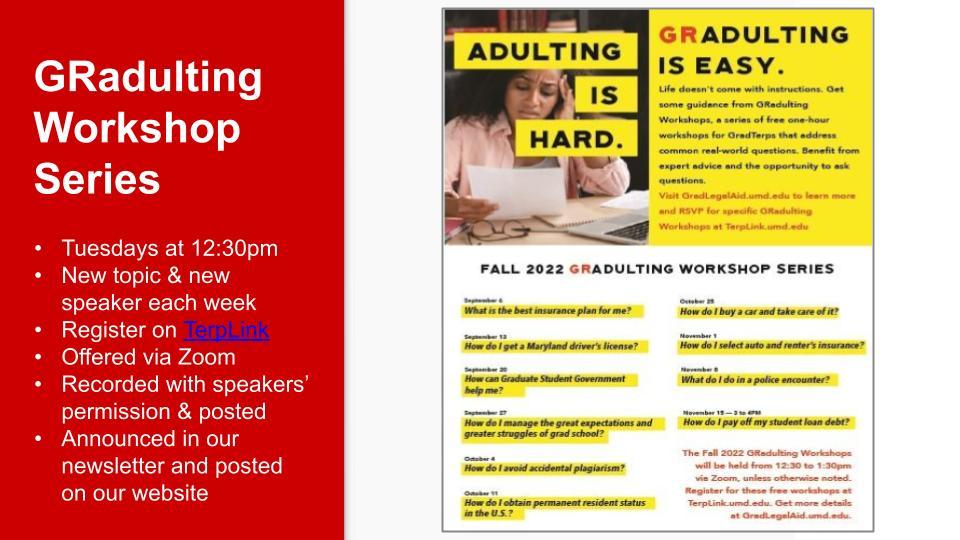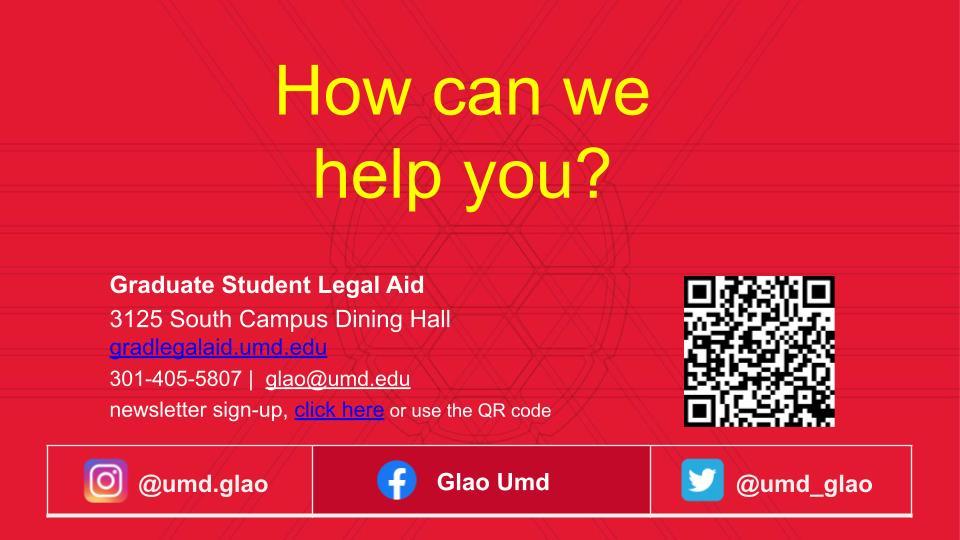 Eligibility
You are eligible for our services if you are a graduate student who is currently registered at the University of Maryland College Park. 
Our services are not available to UMD alumni, staff (including post-docs), faculty, or other members of the campus community. This includes graduate students at Shady Grove, UMUC, or other campuses who do not pay graduate student activity fees to the University of Maryland College Park.
Staff
William Zachariah Mundy, Esq., Director & Attorney, he/him
Debbie Mikutsky, Coordinator of Services & Programs, she/her
Jocelyn Evens, Graduate Student Advocate, Doctoral Student, she/her
Simone Durham, Graduate Student Advocate, Doctoral Student, she/her
Office Hours
Mondays: 11am - 5pm
Tuesdays: 9am - 3pm
Wednesdays: 9am - 3pm
Thursdays: 9am - 3pm
Fridays: CLOSED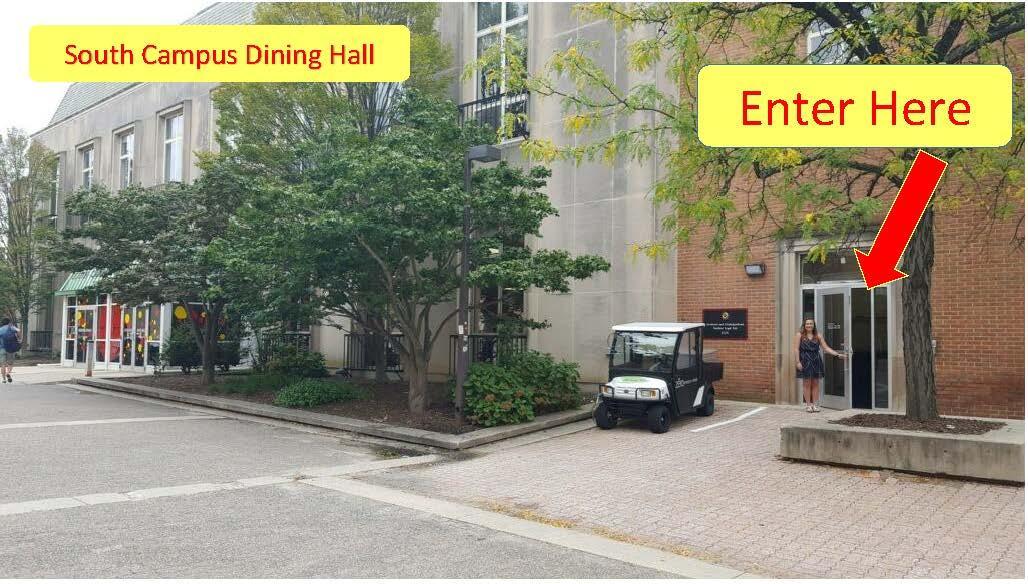 Location & Parking
Notary services are only offered in-person, while legal and advocacy consultations are offered via Zoom, phone, or email.  Our office can be difficult to locate so we suggest that you view your route on the UMD Interactive Map. For walking directions to our office use the "Route" option on ​​UMD's TerpNav Pedestrian Map.  You'll find our office on the third floor of the South Campus Dining Hall, Room #3125, (not in STAMP Student Union). 
As you'll see from the photo, enter the building on the side of the building that faces the neighboring building, LeFrak Hall. Use the single glass door to the far right of the double glass doors and follow the signs to Legal Aid.  
There is paid visitor parking available on Preinkert Drive, in the parking lot behind the South Campus Dining Hall (near the loading docks), and in Mowatt Lane Garage. For information see the visitor parking map or the Transportation Services website.
Let's Keep In Touch!
Click here to subscribe to our newsletter.
University of Maryland Land Acknowledgement

Every community owes its existence and strength to the generations before them, around the world, who contributed their hopes, dreams, and energy into making the history that led to this moment.

Truth and acknowledgement are critical in building mutual respect and connections across all barriers of heritage and difference.

So, we acknowledge the truth that is often buried: We are on the ancestral lands of the Piscataway People, who are the ancestral stewards of this sacred land. It is their historical responsibility to advocate for the four-legged, the winged, those that crawl and those that swim. They remind us that clean air and pristine waterways are essential to all life.

This Land Acknowledgement is a vocal reminder for each of us as two-leggeds to ensure our physical environment is in better condition than what we inherited, for the health and prosperity of future generations.