Workshops
Graduate Student Legal Aid offers the GRadulting Workshop Series, weekly hour-long workshops on a variety of topics relevant to UMD graduate students.  They take place throughout the spring and fall semesters on Tuesday afternoons via Zoom. Useful information is presented by experts from both on- and off-campus, and many workshops are recorded for those who are unable to attend in person.  Look below for links to recordings and information from past workshops.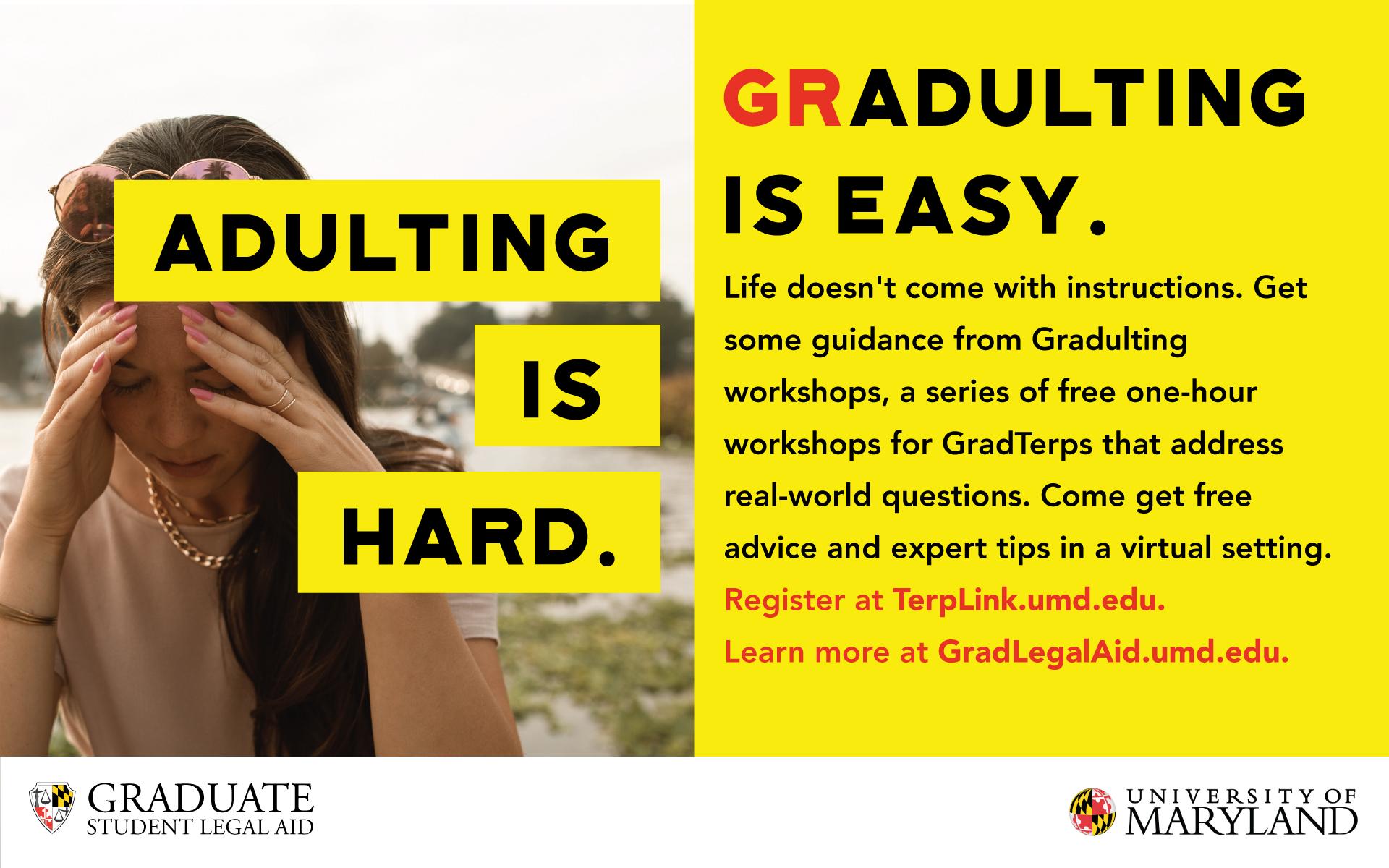 What is GRadulting?
GRadulting is defined as graduate students who are "adulting" -- (v): to carry out one or more of the duties and responsibilities expected of fully developed individuals, such as financial planning, buying a home, negotiating a salary, or estate planning. 
Click here to register on TerpLink for any and all GRadulting Workshops!  Click on the links below to view the recordings, slides and other materials.  
GRadulting Workshop Series, Fall 2021
Sept 7th - Help me understand my health insurance options! - recording, Q&A, slides
Sept 14th - Help me survive and thrive in grad school! 
Sept 21st - Help me with my personal finances! recording and slides
Sept 28th - Help me get a Maryland driver's license! recording and slides
October 5th - Help me avoid accidental plagiarism! recording and slides
October 19th - Help me get a green card! recording and slides
October 26th - Help me buy a car and take care of it! recording and slides
November 2nd - Help me understand my intellectual property rights! recording and slides
November 9th - Help me feel safe and be smart at UMD! recording and slides
November 16th - Help me fight a traffic ticket! recording and slides
Summer 2021
June 24th - ISSS' Beyond Immigration Series: Leasing in the U.S.: recording, slides
GRadulting Workshop Series, Spring 2021
February 2nd –How do I prepare to buy my first home?  Recording & Presentation
February 9th – Life After F-1/ J-1: What's Next?  Presentation, this workshop was not recorded
February 16th - What should I know before I start a small business?  Presentation, Recording, Maryland Small Business Development Centers & The Dingman Center 
February 23rd - How do I prepare my taxes international students & domestic students Presentation & Recording for international students, Presentation & Recording for domestic students; Get help filing your taxes with Terp Tax, UMD Graduate School resources. guidance from ISSS
March 3rd – What do I need to know before I sign a job contract?  Presentation & Recording
March 9th – Why is my credit score important? Recording & Presentation
March 30th – Do I need a will or an estate plan? Recording & Presentation
April 6th - How do I negotiate my salary?  Presentation/Handouts & Recording